My Love of Lake Michigan
and an SBI Review

Talking about me isn't the easiest thing in the world (and would be boring to say the least). My love for Lake Michigan and the majestic west Michigan coast is, on the other hand, always something I enjoy sharing with others.
I was fortunate to be born and raised in the southwest corner of Michigan, only 25 miles from the lake. From the time I was a child and first visited the Lake Michigan beaches with my family - I knew this was a special place.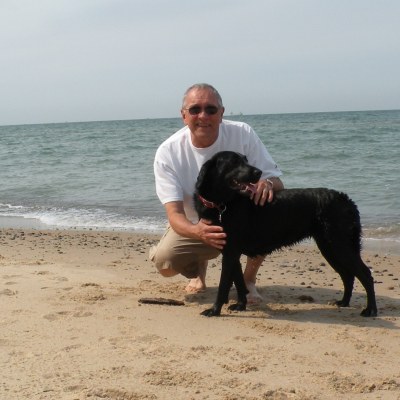 A few of my memories...
A weekend day trip to St. Joseph's Silver Beach was always an event to get excited about. The crazy funhouse there had this scary animated clown in a cage that would rock back and forth and laugh as you walked by. Spooky ... when you're young. Cotton candy was of course, the main treat I looked forward to.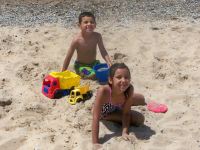 Other than the carrousel, I was too young to go on most of the rides at the time. Silver Beach has long been torn down. They now have a beautiful beach area with plenty of parking, a concession stand and large bathrooms.
As I grew older, trips to the beaches with friends were some of the most memorable times of my life. Sunburns, walking on hot sand, climbing dunes, watching the sunset…were all part of the summertime fun I enjoyed.
I always was, and still am, in awe of the sheer natural beauty of Lake Michigan and the surrounding areas.
My wife Sue says, "in only one hour you can look up and down the shore and feel like you're in the South of France or any other place in the world you want it to be."
We're lucky ... an hour's drive and we escape the crazy rat race of life.
Lake Michigan will touch your soul with all its majesty. I can't be away from it for too long. It's my therapy.
Why I Built a Site about Lake Michigan
Building a web site about Lake Michigan was a way for me to show others why I believe Michigan's west coast is one of the most romantic areas in the world.
I have also been downsized out of the workforce several times in the past 13 years, once after being with a company for 30 years! I decided I needed to do something (on my own) to generate extra income as I faced retirement. Working part time jobs after retiring didn't appeal to me. Then I discovered Site Build It (also known as SBI).
My SBI Review
Having my own online business sounded good but ... me, build a website? SBI is a product that teaches you how to create your own online business which entails building a website based on a topic you know and love. You build a business you can work on anytime day or night, from anyplace in the world with an Internet connection.
You learn to research your topic for feasibility then you plan out your venture step-by-step. Next, you design the site, create the content and learn to get free traffic from various sources. Over time, you build it into an income-generating online business that monetizes through diverse income streams.     
It sounded intriguing, but with all the crazy get rich schemes out there I needed proof. So I invested the time to check it out. Site Build It (SBI) offers everything (all the tools) I needed to have a chance at building a successful web site that would generate extra income.
Because you're building an online business (not just a website), the cost is very reasonable. Still, the risk-free guarantee meant   I could try it out for 90 days and if it wasn't for me, I could get my money back.
Side note: If you've ever wanted to earn an income online, I urge you to investigate for yourself, but beware of false reviews. This review is based on real experience with the product, but many of the negative reviews out there were written by people who've never tried it. Not everyone who tries it finds it to their liking, but that's a matter of preference. Some, very negative reviews go beyond likes and dislikes and have other motives.  
All in all, building this site has been one of the most exciting (and fun) things I have ever successfully attempted. The things I've learned are only possible because of Site Build It.
Once you get going, you build a growing income stream as you continue to build and expand pages. For example, on my site I am earning an income through Google AdSense ads and by recommending products from other companies, which then pay me a commission when someone buys through my affiliate link. You can also learn to create your own products or sell your wares. Some people develop commission-based leads for others or offer lessons or their own consulting services.  
This extra income has given Sue and I the opportunity to enjoy our passion ... getaways along Lake Michigan more frequently. This means we are giving you information from our personal experiences. Information you can rely on from someone who has been there - done that.
We hope you enjoy our website. It has been a labor of love that Sue and I really are having fun building.
If you have ever considered the possibility of having your own website, but you are not sure where to start, take a look at Solo Build It. It really is an honest chance to turn your passion into extra income.
All the Best,
Paul B.
From About Me back to Romantic Lake Michigan Home Page.