Michigan Travel Deals
Traveler reviews, IPhone APPs, restaurant saving programs and more.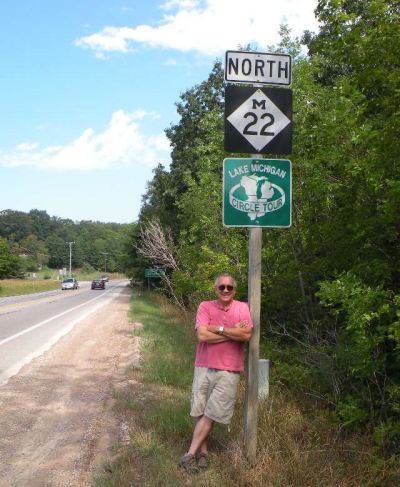 Here I am just south of Leland. Dang, I love it up north!
Top Michigan travel deals are what we are always striving to find and provide to you. Todays economy demands that we be smart with our money and seek the best travel deals avaiable.
This page is designed to provide you input from other Michigan travelers as well as other money saving tips. This page will be dynamic in the sense we will always update information that saves you bucks on your Michigan west coast travel adventures.
An enjoyable Michigan west coast travel experience has to be planned for money savings without sacrificing quality. Little things, like saving money on meals at top michigan restaurants at Restaurant.com can help stretch your vacation dollars.
Travel reviews can be used to help narrow where you want to stay during your getaway. Who wants to waste money on accommodations that don't fit your standard? You"ll find hotel, motel, B&B and Inn reviews that will help in your decision and save you online research time.
If you still can't find what your looking for check our discount travel page for more money saving ideas.
There are even some cool Iphone apps for Michigan travel loaded with money saving information as well as directions to scenic areas you may not be aware of. Great photos, maps, restaurant reviews and more with this app.
Iphone apps for boaters that can help you find the best gas price at marinas. You'll know which marina has the best price before you pull into the harbor.
How about an Iphone app about Michigan wineries. Gives you all the information you need about Michigan wineries and the great wines they produce. Wine reviews as well as directions and great vineyard and winery photos.
So if your looking for northern Michigan travel deals or specials along any stretch of Michigan's west coast check back often for updates and more programs to save you money.
Custom Search
From Michigan Travel Deals back to Romantic Lake Michigan home page.