Lake Michigan Books And DVDs
Custom Search
There are so many Lake Michigan books and DVDs available it can be a daunting task sorting through them all. We want to help you pick the best books on Michigan west coast travel.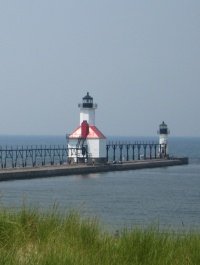 When Sue and I visit the bookstores I grab magazines, books and anything else I can find about Lake Michigan. Then it's time for a cup of coffee and getting lost in one of them.  
I love reading about sailing and boating in the early days on Lake Michigan. I also enjoy the history of the great lakes in general.  It's easy for me to imagine the hardships that many endured in the early years.
Hemingway's Nick Adams series is I think a special treat.  It puts you in the Northern Michigan area around Little Traverse Bay.  He mentions the Petoskey and Charlevoix areas in pretty good detail.  Great reading by a master!
Researching your travel destinations before hand lets you discover the little things you may not have known. When you do visit, you'll know what your looking for and where it's at.
Below are books we have picked that we believe will be of interest to you.
Do you have a favorite book about Lake Michigan?  Maybe you could contact us so we could add it to our lists.  I'm sure there are plenty of great Michigan stories in print that we should be made aware of.  
Maybe your a beginning author and have written about a Michigan topic. Please contact us if it is listed in Amazon or if you have a webiste we could link to. 
From Lake Michigan Books back to home page.