Lake Michigan Marinas

Knowing where to find a Lake Michigan marina
makes a romantic boating trip safe.
Custom Search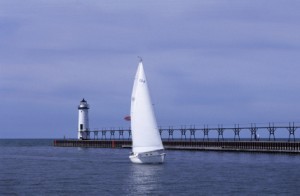 Lake Michigan marinas are a neccesity for a safe romantic venture on this big lake. If you are boating up and down the coast as many do, you need to know where you can stop off for gas, supplies or safe harbor. 
Many Michigan beach towns have public marinas with transient slips avaiable to reserve generally on a first come, first served basis. It's always best to call ahead to reserve your slip.
Again, this is information you need to know if you are planning an extended Lake Michigan romantic cruise. Nothing can ruin that special getaway more than running into trouble and not knowing what to do or where to go for help.
We want to help you find a marina on Lake Michigan that will meet all your needs. Michigan's west coast is busy during the summer season with boaters, fishermen and ferries.
It's not unusual for folks to travel accross the lake from Chicago or Wisconsin. Many boaters will spend extended time up and down Michigan's west coast visiting all the port-towns.
This could be the ultimate romantic getaway!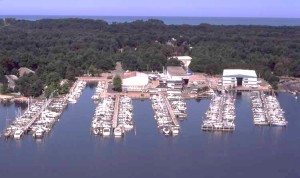 Breakdowns, weather, or just needing fuel and supplies all have to be factored in your trip.
You can see how Lake Michigan Marinas play an important part of your boating trip plans.
Many of these marinas are members of the Clean Marina Program which promotes environmental stewardship of Michigan's waterways.
This program is growing and hopefully in the near future all the Lake Michigan Marinas will take part in this extremely important program.
I recommend you look for the Clean Marina program signs and if you don't see them mention it to the marina owners or harbor masters.
Here is a partial list of Michigan Marinas
New Buffalo Public Marina
30 transient slips
269-469-6887
Harbor Master moniters Ch.16 VHF Ch.9

St. Joseph
West Basin Marina
20 transient slips
269-983-5432

South Haven Public Marinas
visit their website at www.southhaven.com

Saugatuck/Douglas
Saugatuck Yacht Service
868 Holland St.
Saugatuck, MI
Phone: 269-857-1481
VHF: 16

Tower Marine
216 Peters Dr.
Douglas, Mi.
269-857-2151

Holland
Anchorage Marina 1800 Ottawa Beach Rd 616-399-1802
Crescent Shores Marina 561 Crescent Drive 616-392-9951
Eldean's Shipyard Marina 2223 Shouth Shore Dr 616-335-5843
Eldean Yacht Basin 1862 Ottawa Beach Dr 616-786-2205
Parkside Marina 2314 Ottawa Beach Rd 616-399-2020
Grand Haven
Grand Haven Municipal Marina
Pentwater
Village of Pentwater Municipal Marina
Hancock St., Pentwater, MI 49449,
(231) 869-7028

Ludington
Ludington Municipal Marina
77 transient slips
231-843-9611

Manistee
Sengs Marina
231.723.9444

Frankfort
Frankfort Harbor
616-352-9051

Leland
Leland Township Marina

Northport
radio Ch. 16 & 9
231-386-5411 

Suttons Bay
Radio Ch. 16 & 9
231-271-6703

Traverse City
Duncan L. Clinch Marina 
231-922-4903 

Greilickville Twp. Harbor 
231-936-5463 

Elk Rapids
Edward C. Grace Memorial Harbor 
616-264-8174

Charlevoix
Charlevoix Harbor
(231)547-3272

Beaver Island
Beaver Island marine
Radio Ch. 16
231-448-2300 

Petoskey
Petoskey City Marina
(800) 447-2757 or 231-347-6691
Harbor Springs
Harbor Springs Municipal Marina
250 E. Bay
Harbor Springs, Mi. 49740
(231)526-5355

Please ... when boating on this magnificent body of water be a good stewart ... don't pollute.
Keep your eye on the weather and be as safe as you possibly can. Don't take chances and always go to the aid of others if you see someone in distr
From Lake Michigan Marinas back to Romantic Lake Michigan home page.