Grand Traverse Bay ... Pure Michigan Romance!
The Grand Traverse Bay area with it's two peninsulas has always been one of our favorite Michigan destinations.
Custom Search
Grand Traverse Bay: Sue and I at the tip of Old Mission Peninsula near the lighthouse.
Traverse Bay is one area along Lake Michigan you'll want to take some serious time to explore. The bay area is over 32 miles long, 10 miles wide, and can reach depths of over 600 feet. It's no wonder that it is one of the top boating and fishing area's in the state.
This northern Michigan area is a popular year-round destination. Beautiful fall colors lead into magical winter's where you can enjoy winter sports at the many ski resorts and state parks located here.
The Leelanau Peninsula and Old Mission Peninsula are home to every possible amenity one would desire for a charming romantic getaway. 
View Larger Map
You'll find old rustic inns and B&B's in the many northern michigan beachtowns that dot the coastal area. If you want more of a big city getaway, Traverse City is located at the base of Old Mission Peninsula and is loaded with "chic" restaurants, microbreweries and places to stay.
The tips of both peninsulas have beautiful Lighthouses that are must visits while you are in the areas.  Make sure you have plenty of extra batteries for the digital camera.  Your hand will grow tired capturing it all.
Getting around is really easy and you'll travel through some very scenic areas. M22 runs along both side of Leelanau Peninsula taking you through charming little towns like Suttons Bay, Northport, Leland, and Glen Arbor.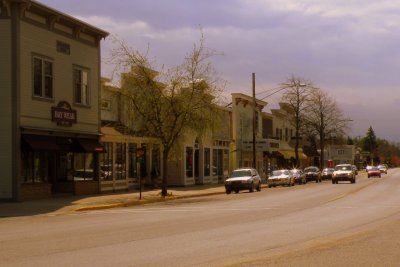 Keep an eye out for signs pointing out the various wineries in the area. The sweeping views of the bays make these wineries some of the most spectacular in the state. You'll also learn about the 45th Paralel and the importance of it too the wine industry.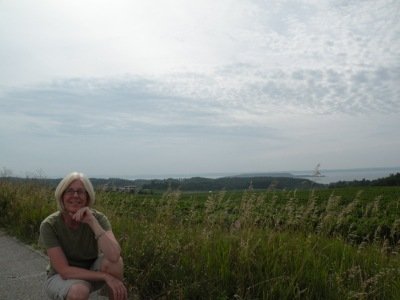 Sue on Old Mission Peninsula with Bowers Harbor in the background.
Orchards full of beautiful Cherry blossoms in the spring, miles of summer beaches, dazzling fall color and winter resorts make this a four season area favorite!
From Grand Traverse Bay back to Romantic Lake Michigan home.