Beautiful Leelanau Peninsula

The Leelanau Peninsula ... Suttons Bay, Traverse City, Leland, Northport, Empire, Glen Arbor, Sleeping Bear Dunes = paradise!
Custom Search
Leelanau Peninsula's charming village Sutton's Bay.
You just know you're in for a special time being surrounded by this much water. With the northern part being only a couple miles wide it's easy to experience a beautiful sunrise and a beautiful sunset over these waters all in the same day.
The Leelanau Peninsula extends 30 miles into Lake Michigan with the Grand Traverse Bay on the east side and Lake Michigan on the west.
You'll experience northern Michigan charm the moment you hit M-22 and start to explore. Sue and I love the M-22 drive. This famous, scenic highway takes you around the entire peninsula through funky beachtowns, secluded beaches, towering dunes and rolling countryside. One word sums it up for us ... "spectacular".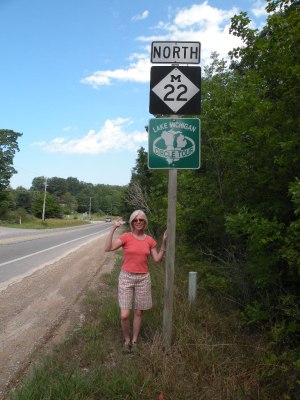 Sue knows M-22 is "the" route for getting around the magnificent Leelanau Peninsula.
Heading north on M22 from Traverse City the first village you encounter will be Suttons Bay. This enchanting little village is one of our favorite destinations.
There are plenty of places to stay but you may want to check out the Korner Kottage. Jim and Linda Munro have created their own little piece of paradise that they share with those who stay with them.
Make your reservation early as they only have four delightful rooms available and they fill quickly. Walk to downtown Suttons Bay but ... with the cozy front porch and inviting garden you may not want to leave.
To visit Northport and Leelanau State Park leave Suttons Bay heading north on M-22. Take M-22 to the village of Northport, then north on 201 to CR 640 (N. Mill St.). Take CR 640 (N. Mill St.) to E. Woosley Lake Rd. (Co. Hwy. 640). Take E. Woosley Lake Rd. to Co. Hwy 629 which turns into N. Lighthouse Point Rd. which takes you to Leelanau State Park. With over 1300 hundred acres and one of the most popular lighhouses in the state, plan on being wrapped in rugged beauty. The popular Grand Traverse Lighthouse has a neat lighthouse keeper program that allows you to work/stay there for a reasonable weekly rate. This could be a memorable, fun, getaway option if you are up to it.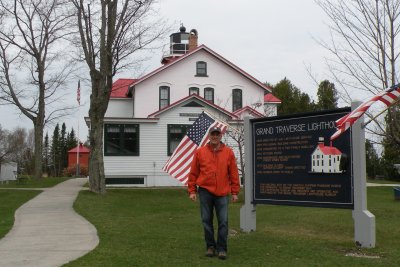 I love visiting the Grand Traverse Lighthouse.  It's easy to spend a day exploring here.
Sleeping Bear Dunes National Park is located on the the SW side of the peninsula. This national park has two islands, 35 miles of shoreline and some of the highest dunes in the world. The popular Pierce Stocking Scenic Drive is seven miles of breathtaking views from amazing observation points. Amazing views of Lake Michigan and the Manitou Islands from overlooks located on 400 ft. dunes. So much to see and do here you're going to need a couple days to see it all.
Glen Arbor is another small northern Michigan village with a name that beckons you to visit. It's nestled next to Sleeping Bear Dunes and Glen Lake in a story book setting. A few of the must see's here are the Cherry Republic store (one of our big favs) and Arts Tavern. This small village is home to several art galleries and local artists and artisans. Plenty of options for vacation rentals from cottages, to inns, and B&B's.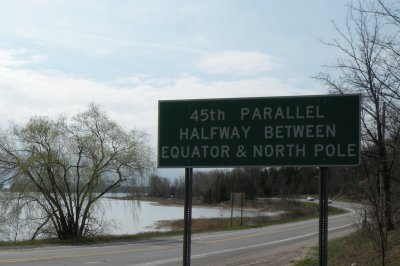 The village of Empire is in the SW corner of the peninsula where M-22 and M-72 meet. About 27 miles west of Traverse City if you take M-72. Being surrounded by Sleeping Bear makes it a four season destination. Home of the popular Asparagus Festival usually held in May. The saturday farmers market usually runs from May through September and is loaded with locally grown items. A very busy and popular market.
Leland is located on the west (Lake Michigan) side of the peninsula and is home to Historic Fishtown. Fishtown is still an active fishing port. There are several quaint shops where you are sure to find or taste something you'll enjoy. This is also where you'll find the ferry for your Manitou Island trip.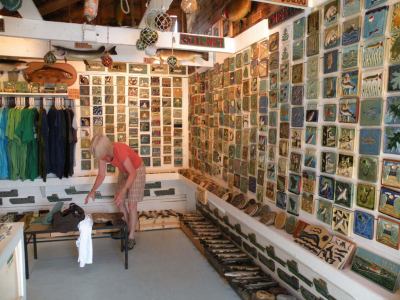 Sue browsing the Sporck Tile Shop in Leland Michigan's Fishtown.
Downtown Leland is so charming with small shops, galleries, and eateries. A casual stroll down the beautiful main street leaves you with that wonderful "upnorth" feeling.
Taking highway 204 out of Suttons Bay west is a short cut to Leland but you will also travel through Lake Leelanau (village) when crossing the bridge at the narrows. If you need a cup of coffee (as Sue always seems to) be sure and stop by Pedaling Beans Coffee House or Dick"s Pour House. Not many shops but it is a nice area to grab a drink and take a break.
Other villages worth visiting are Omena located north of Suttons Bay on M-22. Cedar, Maple City, and Burdickville are in the southern part of the peninsula inland, off cr. 616. Captivating beauty are the two words I would use to describe the Leelanau Peninsula area. An area of the state where memories are made by those who visit and return time and time again.
From Leelanau Peninsula back to Traverse Bay 

From Leelanau Peninsula back to Romantic Lake Michigan home.