Romantic Lake Michigan
Beach Towns
You'll discover the "it".
Custom Search
We love Michigan beach towns. Here we visit old Fishtown in beautiful Leland MI.
Each of the Michigan beach towns, along the 350 miles of Michigans west coast, have their own special personalities.
While it is possible to visit several in a day you need to savor the time in these quaint, romantic destinations.
The real fun is discovering the special gems these romantic destinations have to offer.
When Sue and I return to a previously visited town we try to eat at a different restaurant.  Finding out of the way specialty shops or galleries is always a fun time.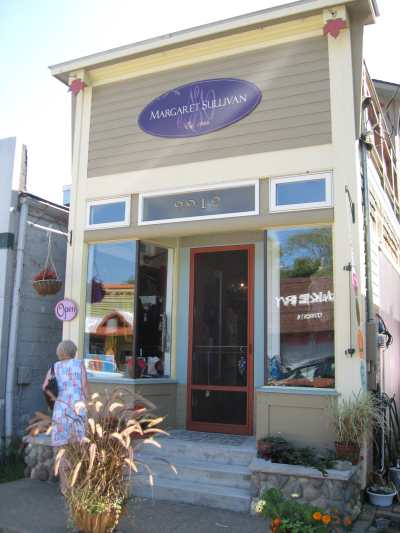 Sue loves exploring all the shops and boutiques and usually finds a little something she has to have. :) This adorable shop is located in Union Pier, MI.
The really cool thing is no matter where you are Sugar sand beaches and towering dunes are always close by, usually within walking distance so easily enjoyed.
You'll enjoy amazing places to stay and experience great food at inviting eateries.
Have fun strolling along the streets and taking in the friendliness of beach town shops and galleries.
Tasting fine wines produced from the local vineyards close to Lake Michigan is always a pleasure and an educational treat. Don't forget ... try the ice wines.  Can you say yummo!
Here I am relaxing in the outside terrace area at Chandler's Restaurant in downtown Petoskey. One of our favorite beach towns on Littlle Traverse Bay.
Check out our stay at The Inn at Bay Harbor. One of the spectacular resorts of northern Michigan.
---
Tell Us about your favorite west Michigan beach town.
---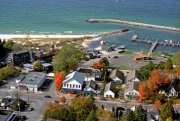 We enjoy our getaways as often as we can and we discover something new on every visit. Even after all the years of adventure we find something we never knew about.
One thing is for sure ... there is something magical about Michigan's west coast.
---
Discover Northern Michigan beachtowns along the northwest coastal area.
You'll enjoy exploring the "romantic" Grand Traverse Bay and Little Traverse Bay area's.
Charming communities with names like Suttons Bay, Leland, Charlevoix, Elk Rapids and Petoskey. These ares are year-round destinations offering wintertime fun getaway opportunites.
---
The central coastal area from Holland to Pentwater give you the opportunity to enjoy many state parks, beaches and amazing sunsets.
The towns are a little more spread out here but in a day you can still have breakfast, lunch, and diner in a different one.
---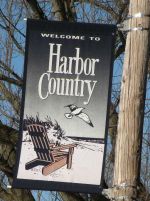 Michigan's Southwest coastal area is one of the Chicago crowds favorite year-round getaway destinations. Busy on the weekends which makes for great people watching. You may even see a celebrity!
Great eateries, plenty of antique shops and a chance to enjoy art communities from Harbor Country to Saugatuck.
---
Whether it's an amazing view of this spectacular lake from atop a dune ... or a hand in hand stroll along a quiet beach ... you'll find the "it" that will keep you returning often.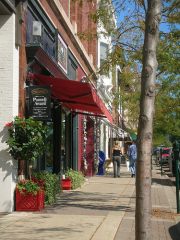 What's Your Favorite Of All The Lake Michigan Beach Towns?
Found a romantic beach town? Tell us what makes it so special.
Read Other Lake Michigan Beach Town Reviews
Click below to see contributions from other visitors to this page...

Leland (Fishtown)Michigan

We left Manistee, Michigan at 6 am for our "daytripper" vacation in Leland, Michigan. The drive along M22 is a scenic experience that should be on everyone's …
Leland Michigan's Fishtown Not rated yet
I have been coming to Leland for over 50 years. This quaint little northern michigan town hasn't changed much over the years. I always manage to get …
We love St. Joseph Not rated yet
Our favorite Michigan beachtown has always been St. Joseph. Living in Dowagiac, it is only a short enjoyable ride for us. I have many great memories …
From Michigan Beach Towns to Romantic Lake Michigan home