Leland Michigan's Fishtown
by Andy Kirt
(Cadillac, Michigan)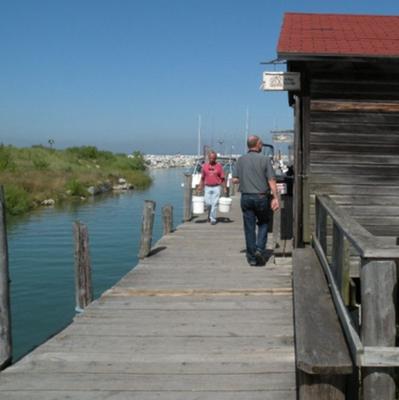 Leland's Fishtown dock
I have been coming to Leland for over 50 years. This quaint little northern michigan town hasn't changed much over the years. I always manage to get a bite to eat at the Cove restaurant.

It's always a pleasure to sit on the Cove deck and watch the boats in the channel and the people visiting all the Fishtown shops.

It can be busy during the tourist season but you'll always find a place to park and a bench to sit and people watch. Took a boat ride out around the Manitou Islands a few years ago. The boat trip was enjoyable and the scnery was unforgetable.

I try to get around the area in fall and winter too. Fall colors are breathtaking and winters really are a wonderland. I highly recommend Leland for a memorable visit.
Join in and write your own page! It's easy to do. How? Simply click here to return to Your Reviews Of Michigan Beach Towns.