Michigan Fishing Can Be Romantic!
Fish on ... means fishing fun!
I know ... Michigan fishing romantic? Yup! Fishing is just another way to enjoy a fun and exciting time together. You can enjoy fishing for monster Salmon on a Michigan charter boat or fishing the many lakes and streams along and connected to Lake Michigan .
This is a sport that can be enjoyed all year long so there really is no excuse for not getting out there and wetting a line.
Listening to your loved one screaming with excitement while landing the "big one" is just plain fun.
You can even enjoy Michigan winter fishing. Ice fishing is a very popular winter sport. Cuddling up in an ice shanty ... who cares if the fish are biting. Just be sure the ice is safe before ever venturing out.
You'll need a reliable Fishing report to eliminate the areas where they're not biting!
While the fishing is great, it's really sharing the experience together that you'll enjoy most. Being on the water, whether you catch anything or not, is the romantic part. Sun shining (hopefully), fish biting (hopefully) and you can make some interesting side bets ... first fish caught, biggest fish, most fish.
---
Tell Us about the big one that got away:).
---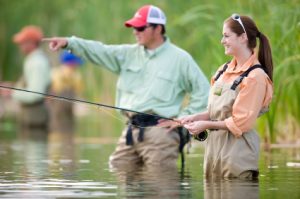 If you are planning an overnite or extended stay check out our places to stay page. Lake Michigan camping is also popular with fisherman. Either way you want to book well in advance.
Travel Deals can be found in all the ports and beachtowns.
Things you need to know about Michigan fishing. You'll need a fishing license and of course equipment unless you go the charter boat route. Charter boats are nice because the captains normally provide the equipment you need and will clean and package your fish for you.
Get your Michigan fishing license online.
If you plan on fishing in one of Michigan's smaller, scenic inland lakes you can bring your own equipment. Some of the boat rental shops will also rent equipment. Make sure you know the rules and regulations.
Michigan has two free fishing weekends every year. They are usually the second weekend in February and June. You can check the dates at theMichigan DNR website where you can also get the latest license fees and regulations.
On a budget? Grab your gear and fish off a dock, pier or even a beach where allowed. You'll have a blast!
---
Lets get the list together of things you will need.
Fishing license
Sunscreen
Sun glasses
Jacket or sweatshirt
Life vest
Rain gear
Camera (proof of the big catch)
Food and drinks(non-alcoholic)
Cooler(for the catch)
---
If you are bringing your own boat you probably have all this stuff. You should know that some boat launches will charge fees and may have their own rules and regulations.
Always obey the rules of the water. Be safe, and keep your eye on the weather. If your going out on Lake Michigan this is especially important as strong summer storms can appear quickly turning the seas deadly.
Have fun ... you'll make a lifetime of memories.
---
LakeMichiganAngler.com: Fishing Information, Reports, Techniques and Tips for Catching Salmon, Trout and other species of Fish in the Great Lakes.
---
Custom Search
Have A Great Michigan Fishing Story ?
Do you have a great michigan fishing story? Here's your chance to tell and show the world that big one you caught.
Read More Michigan Fishing Stories
Click below to see contributions from other visitors to this page...

I love Michigan ice fishing

My guy (tim) and I enjoy fishing year-round here in Michigan. I enjoy the summer fishing best, but will venture out on the ice if it's safe and weather …
Return to Romantic lake Michigan home page.