Michigan Winter Fishing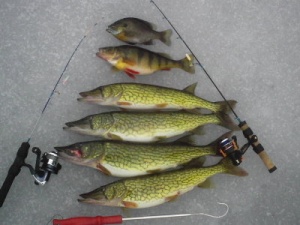 Michigan winter fishing is very popular and great way to get out and enjoy this time of year. I would like to tell you the lakes aren't as crowded but Michigan ice fishing is so popular (and productive) that usually is'nt true.
Another nice thing about ice fishing is that it's affordable and easy. Guys and gals both enjoy the sport and it's a great winter activity for couples.
You'll enjoy catching Bluegill, Crappie, Perch, Walleye, Northern Pike and Bass.
Always know size limits, bag limits, and be sure there are no closed seasons or special lake rules.
Most important is to make sure the ice is safe. Please ... don't take any chances here! No fish is worth losing your life over!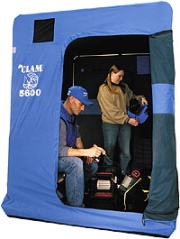 Check the Michigan DNR website for complete fishing information.
You can get your Michigan fishing license online.
If your traveling check our discount travel page and save on hotels, motels and inns.
Unless your a true, die-hard, hard water fisherman you really don't need an ice shanty. Basic ice fishing equipment is available at local bait shops. Dress accordingly and take something to sit on (bucket). Good insulated boots are a must.
The most important thing is to use common sense when venturing out on the ice. Every year some will attempt to get out on the ice before it is safe. I love fish and fishing but there is no fish worth risking your life for!
Michigan winter fishing safety tips
2 inches or less of ice - stay off!
4 inches of ice - one person and gear (about 200 lbs)
5 inches of ice - one snowmobile (about 800 lbs)
7 inches of ice - group of people (about 1500 lbs)
8 to 12 inches - one car (about 2000 lbs)
12 to 15 inches - medium truck
Never go alone. Take a friend incase you need help.
Take life vests and put them on when you get to the lake.
It is never agood idea to drive on a frozen lake and especially at night. Be aware of heavy snow squalls. Get off the ice before they arrive.
I can tell you from experience that trying to find your way off the ice during heavy snow can be difficult. You can end up a long way from where you started.
Always check with local resorts and bait shops for ice conditions andaccurate fishing reports. They will be your best source of valuable information.
Ice fishing in Michigan really is enjoyable as long as you have the right equipment, clothing and think safety first. We want you to enjoy Michigan winter fishing and to make it a part of your wintertime activities.
From Michigan winter Fishing back to Michigan Fishing. 

Back to Romantic Lake Michigan home.