Enchanting Northern Michigan Honeymoon Destinations
Custom Search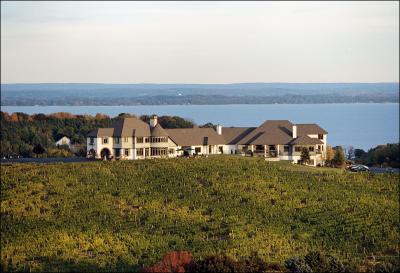 A northern Michigan honeymoon is unlike any other. Whether you choose a luxurious resort/hotel, or a beautiful winery that hosts a bed and breakfast inn, you'll find some of the finest in the world here in northern Michigan.
The Grand Traverse Bay area has always been a popular destination for Michigan honeymooners. The two of you won't have any trouble finding the perfect romantic honeymoon getaway here.
Two amazing peninsulas ... the Leelanau, surrounded by both Lake Michigan and Grand Traverse Bay, and Old Mission Peninsula, nestled between Grand Traverse and East Grand Traverse Bay.
Both are set in breathtaking beauty. Plenty of art galleries, specialty shops, and local wineries in a Tuscan like setting.
Take the time to travel north about 70 miles and you'll find Petosky, Charlevoix, and Harbor Springs on the shores of Little Traverse Bay.
Use the map below to explore this amazing area. You can zoom in or out, scroll around, and get some pretty good satellite views. You can also check our Beach Cam page for live views of Traverse Bay and the Leland area.
Below are some of the top places to honeymoon in northern Michigan, visit our places to stay pages for more and for discount hotels and resorts.
---
Don't forget to see our review of The Inn at Bay harbor. This is a spectacular resort on Little Traverse Bay in Petoskey.
---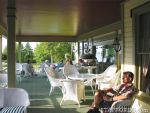 On the shore of Little Traverse Bay in Petoskey, you'll find Stafford's Bay View Inn. Built in 1886 this charming inn offers some of the finest dining in northern Michigan. If you love Victorian you'll love this unforgetable inn!
On the west coast of the Leelanau Peninsula (the Lake Michigan side), you'll find The Homestead ... Americas Freshwater Resort. This place offers it all from small hotels, an inn, a grand lodge, and condos. Close to Sleeping Bear Dunes, it's a great year round honeymoon spot.
The Grand Traverse Resort and Spa is located along the East Grand Traverese Bay shore. This 27 year old resort recently went through a $15 million renovation. This resort is magnificent! Close to many of the finest golf courses in the country, if you like high end pampering, this place is for you.
Many of the wineries in the state are found in the northern area. Some have their own inns or bed and breakfasts. You can imagine how romantic a honeymoon would be surrounded by acres of lush vineyards.
Black Star Farms is located on the Leelanau Peninsula near Suttons Bay. Not only do they produce award winning wines, they also have a charming bed and breakfast with 8 luxurious rooms. Their on site tasting room is also home to the Leelanau Cheese Company. You can enjoy watching the cheese being made, while sampling Black Stars many offerings.
Chateau Chantal (the photo at top of this page) is located on Old Mission peninsula and is another premier Michigan winery. Their French style bed and breakfast offers cozy rooms or spacious suites. This charming winery is in a league of its own. Spectacular views, with a European feel, make this a special northern Michigan honeymoon destination.
Michigan Romantic Getaways. More ideas on romantic Michigan vacations, plus tips on honeymoons and romantic getaways worldwide.
With all the choices, it's easy to understand how romantic a northern Michigan honeymoon experience can truly be.
We wish you much happiness with your exciting new lives together.
From Northern Michigan Honeymoon back to Romantic Lake Michigan home.
From northern Michigan honeymoon, back to Lake Michigan honeyoon