Lake Michigan Lighthouses

How about staying in a Lighthouse ... for free?
Custom Search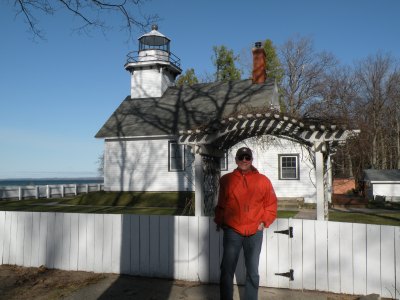 Here I am at one of my favorite Lake Michigan Lighthouses. This is Old Mission Lighthouse at the tip of Old Mission Peninsula.
Lake Michigan lighthouses are plentiful and some of the most visited in the world. Most have been restored and look as they did in years gone by. The nice thing is that they are accessible and it's easy to visit several during a day trip getaway.  You'l enjoy some awesome views from the tops of their towers.
Built in the 1800s you can just imagine how many sailors and vessels counted on them for their safety. Most are still in operation. Still braving the elements to guide today's boaters into the Michigan harbors. A welcome sight to be sure.
You'll find most are open for public tours in the summer months. There is usually a small entrance fee of a couple of dollars.
Get your sweetie and a blanket, head to a beach or dune near one of the lighthouses in Michigan and be prepared for one of Michigan's mesmerizing  sunsets.
Have you ever dreamed of staying in a lighthouse? For free?
You can volunteer at the first lighthouse and stay for free. The second lighthouse charges a small fee but is still cheaper then the resorts and hotels. You could be a tour guide or gift shop operator. How fun would that be?
---
Big Sable Point Light Station-Ludington

Built in 1867 this 112' lighthouse is one of the tallest in the state. Open to the public for tours, it is occupied by volunteers during the summer. For information about being a volunteer (stay free) call 231-845-7343 or visit their website.
---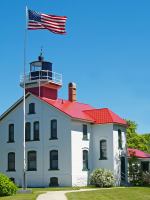 The Grand Traverse Lighthouse-Northport

Contructed in 1852 this lighthouse is a two family dwelling. You pay a small fee to volunteer for one or two week getaway. It makes for an affordable getaway. For more information call 231-386-7195. 

---
More Lake Michigan Lighthouses
---

South Haven's South Pierhead Lighthouse
Originally built of wood in 1872 the lighthouse was reconstructed in 1903 of steel. This 35 foot tower is open the third week of June for South Haven's Harborfest.
---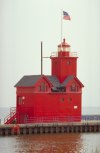 Holland Harbor Lighthouse
Located on the south pier this three story lighthouse (Big Red) is one of the most photographed in the state. As it is located in Holland State park you will have to pay a park entry fee to visit.

---

Grand Haven South Pierhead
Built in 1905 this 52 foot tower is located on the south pierhead. While the pier is open to the public the lighthouse is not.
---
Muskegon South Pier Light
Built in 1903 this lighthouse is located on the south pier. It is the largest of the three harbor lights found here.
---

Manistee North Pier Lighthouse
Built on the north pier in 1927 it stands 39 feet tall. They have reconstructed the catwalk which connects the light to the shore.

---

Point Bessie Light
Locate just south of Sleeping Bear Dunes National Lakeshore this 52 foot light is open to the public. Point Bessie is the most photographed lighthouse in Michigan. Hours of operation are weekends from Memorial Day to October 12th. There is a small entrance fee.

---
Here is a map of all the Michigan Lighthouses of the Great Lakes. It is in PDF format so you can download and print if you would like.


Having good resources is always a good idea. Here are a few books I'm sure you would enjoy. They will give you some insight into these wonderful, historic treasures.

From Lake Michigan Lighthouses back to Lake Michigan Attractions 

Back to Romantic Lake Michigan home.