Pet Friendly Vacations Along Michigan's West Coast.
Hey ... dogs are people too. :)
Custom Search
Pet friendly vacations in Michigan are becoming increasingly popular and it's easy to understand why. We love our dogs!
Well behaved dogs are easily managed and welcome at many Michigan hotels, inns, and vacation rentals along Michigan's west coast.
When planning your Michigan pet friendly vacation, be sure to contact the places to stay ahead of time.
Many only have a limited number of rooms available for those of us who treat our dogs like humans.
You'll want to know about any additional fees and their policies about pets. 
Michigan pet friendly vacation rentals (cabins, cottages and condos) can be found up and down the coast.
Again, there is normally an additional fee for Fido. Fees may or may not be refundable after your stay.  Be sure you understand before making plans.
If you are planning a camping trip check with the parks or campgrounds beforehand so you know the rules. 

Here are some tips to make your vacation as stress free as possible.
Lodging Tip: Michigan pet friendly rentals, hotels,inns and other places to stay usually want the animal caged while in the room. This is especially true if you plan to leave the animal while you're out. The cleaning staff doesn't want to walk in on an uncaged pet. Keep your dog leashed when arriving or leaving the facility.
Restaurants: Restaurants with outide dining areas may allow your pet if they are well behaved. Check before entering. They may require a muzzle... you know how some animals are around food.
Festivals : Again check with festival authorities about pet policies. Never assume pets are allowed.
Wineries: Most wineries will allow your dog on the grounds if leashed. We are not aware of any that will allow your pet in the tasting room.
Beaches: Michigan beaches require leashes. I know ... at just about any beach you'll find those (like us) that let their dog run loose. We only do it if the beach is empty. Here is a list of Michigan dog beaches we are aware of.
---
More pet friendly travel tips and pet friendly accomodations located along Lake Michigan.
---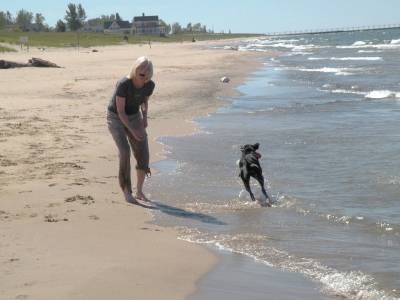 Sue and our Lab Millie having fun in the sun.
Always carry the necessary items to clean up after your pet. It's best to be sure they have gone potty before you take them out and about.
People and dogs gravitate to each other. Don't allow your dog to jump up on folks. Be especially watchful around children.
Always call and check with the locations, or events you plan to attend with your pet. Know the rules!
Taking your pet along on vacations can be a real treat for you and your dog by taking the time to plan ahead.
Be honest with yourself.  You are the only one who really knows if your pet is ready for a long car ride or an extended stay in unfamiliar surroundings.
Remember ... travel with your pet is supposed to be fun.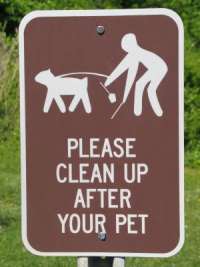 From Pet Friendly Vacations back to Romantic Lake Michigan home.