Pet Friendly Travel Tips
Make your pet friendly getaway stress free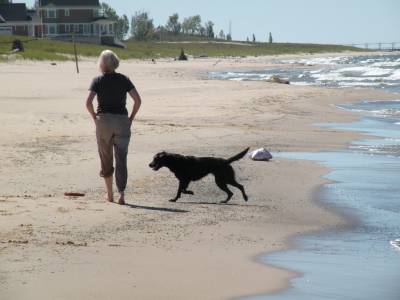 Sue and our Lab Millie walking the beach
We enjoy our pet friendly travel get-a-ways as much as we enjoy getting away by ourselves. Sue prefers to take our Lab Millie along most of the time.
Traveling also means ensuring the saftey of your pet. While traveling in a car secure your pet in a cage or an attached dog harness in case of an accident.
This also keeps "fido" from jumping in the front seat!
Traveling with pets can be challenging if you don't plan ahead. The dog travel tips below will help make your pet fiendly vacation a little easier with no surprises.
dog food

treats

water

bowls for food and water

collar and leash (make sure tags are on)

a couple of favorite toys and chew bones

dog bed or cage for sleeping (blankie too)

bags for waste pick up (a must do)

any medications if necessary

your pets medical records
These items are the minimum to bring. Since Millie loves the water (Black lab) we include several old towels.You know your pet and will most likley add a few things to this list.Bringing the medical records came in handy one night when we needed to board Millie.The kennels need to know that all imunizations are current. Make sure that they are.
Millie on leash at beach. She really hates this!
Michigan pet friendly accomodations are listed below. From the southern part of the coastline to the north. Remember to call ahead for fees and policies. No one wants a surprise when traveling with their pet.
Holiday Inn Express and Suites of New Buffalo
11500 Holiday Drive
New Buffalo, MI 49117

Fairfield Inn by Marriott
11400 Holiday Drive
New Buffalo, MI 49117
269-586-2222

Blue Fish Vacation Rentals
10234 Community Hall Rd.
Union Pier, MI 49129
Call for information (several rentals)
269-586-2222

Cotswold Cottage
9240 and 9246 Schaffner
Lakeside, MI ZIP

Lakeside Cabins
Three Oaks
269-469-3894

Comfort Suites
1755 Dewey Lane
South Haven, MI 49090

Lakeshore Lodging, Inc.
735 Lake Street
Saugatuck, MI
866-534-9952

Days Inn
717 Hastings St. US-31 and Holland Bypass
Holland, MI 49423

Holiday Inn Grand Haven
940 W. Savidge
Spring Lake, MI 49456

Belaire Motel
4240 Airline Road
Muskegan, MI 49444

Best Western Splash Park Inn
5005 W. US Highway 10
Ludington, MI 49431
231-843-2140

Inn at Manistee National Golf & Resort
4797 US-31 South
Manistee, MI 49660

Rodeway Inn
200 Arthur Street, North US-31
Manistee, MI 49660

Grace Grange Lodge
Petoskey, MI
Must call for further information
231-347-5869
(pet sitting service available)

Comfort Inn
1314 US-31 North
Petoskey, MI

Best Western Four Seasons
305 Munson Ave.US-31
Traverse City, MI 49686
231-946-8424

Motel 6
1582 US-31 North
Traverse City, MI 49686
231-938-3002

Pet Friendly Cottages and Homesin Northern Michigan Call toll free for information:
1-800-901-8922
231-922-8922 local number

Holiday Inn Express I-75
364 Louvingney
Mackinaw City, MI 49701
231-436-7100

Please contact the above facilities before heading out. Policies on pets may have changed since this information was posted.
From Pet Friendly Travel back to Pet Fiendly Vacations. 

From Pet Friendly Travel Back to Romantic Lake Michigan Home.