Planning Your Michigan Green Wedding
People are realizing the importance of protecting Michigan's scenic, natural beauty.
Custom Search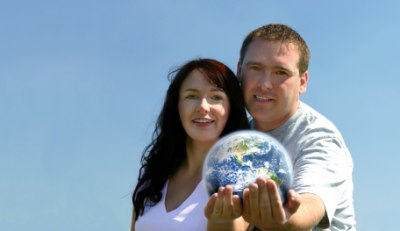 A Michigan green wedding is becoming a popular alternative to the "traditional wedding". Obviously one of the reasons for planning a green wedding is the increased awareness of environmental issues and the negative impact on our state's treasured national resources.
Protecting Michigan's spectacular natural beauty is something we should all take pride in being involved with. With so many green wedding options available, and the positive benefits, a green wedding in Michigan just makes sense.
Sue and I believe being eco friendly is good practice for all of us. It's easy to understand how adding even a few environmentally friendly ideas can have a huge impact on Michigan's scenic and natural beauty.
Great green wedding locations can include Michigan beaches, vineyards, orchards, farms and state parks. Anywhere you can get permission. Beautiful areas that one can use but must never abuse. Pick an area and spend the day driving around to find that perfect natural Michigan setting.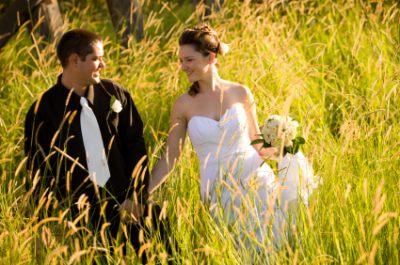 Here are some options you may want to consider when you are planning your Michigan green wedding. Don't be afraid to think outside the box. It is your wedding and your right to celebrate it any way that aligns with your beliefs.
Green Wedding Planning Ideas
Invitations: Use online invitations and thank you cards. This will save you money and time. There are several online invitation or e-vite sites to choose from.
Wedding Gifts Request only gifts made from locally sustainable products. Ask your guests to make a donation in your name to a local conservancy group or environmental organization.
Bridal Gown: Look for organic bridal gowns made from sustainable materials. Gowns made from recycled materials are another good choice. You could also use your mother's or another family members saving both money and lowering your carbon footprint (one less to manufacture).
Bridesmaid Dresses: Same guidelines as the bridal gown. Please, select something your bridemaids can truly use after the wedding. They will appreciate it more than you can imagine.
Bridal party gifts: If your bridal party participants are into the environment like you are consider giving them gifts like annual park passes, conservancy memberships or gift cards from natural food stores.
Reception/Honeymoon: Many resorts, hotels and inns are certified green and located along Michigan's west coastal areas. So you have a green place to spend your honeymoon and host your reception. Food can be organic vegetarian or vegan (get as much locally grown as possible). There are several caterer's in this venue that offer amazing dishes that will satisfy any palette.
Entertainment: If you really want to go green hire a musician(s) that use instruments that won't require electricity. Guitarists or harpists are favorites for green events.
Photographers You may choose to have all your photos sent electronically so you can print only those you want on recyled paper.
---
Now visit our Michigan green wedding planning page for a list of green vendors that will help you put together the magic for your special day.
---
From Michigan Green Wedding back to Romantic Lake Michigan Home