Lake Michigan Art
You'll love exploring beachtown galleries!
Custom Search
We love enjoying Michigan art galleries on our many visits to the beach towns along Michigan's west coast.
These artisans are second to none with many being world renown in their particular media.
They always welcome you to their galleries, and love taking the time to talk to you about their art.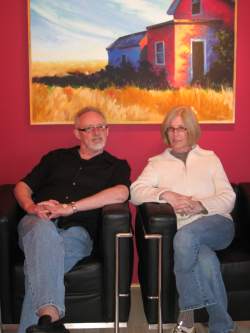 When your visiting New Buffalo, one of the local artists you must see is Roger Harvey.
Roger's works are well known and he has some interesting pieces he has created using modern technology.
He's also an extremely nice guy. Always willing to chat with you about your art interests or answer questions.
Planning your getaway around theMichigan art fairs is another fun way of enjoying time together.

Like us, you may not be looking for anything special, then ... there it is. Gotta have it!
Whether you enjoy paintings, sculpture, pottery, mixed media, photography or jewelry you will find the art in Michigan to be "world class". 
It may also surprise you to discover what your significant other's taste might be.
Deciding together if it's the beautiful painting of the Michigan coast or the ceramic polka doted vase. Either way you're bound to have fun experiencing your day together.
All the beach towns usually have several. Be sure and check the side streets and alleys. Half the fun is finding those off the beaten path.
So, head out early ... grab a bite to eat at one of the Lake Michigan restaurants and browse the many galleries.
Look through our listing of art galleries and art fairs. There is something romantic about exploring galleries together.
Do you love Lake Michigan? Click here to see our Romantic Lake Michigan shirts and other items.
Back to Romantic Lake Michigan home