Michigan Art Fairs

Art fairs in Michigan beach towns

Custom Search
Oh oh, looks like something has caught Sue's eye ... $ :)
Michigan art fairs are events we always look forward to.  I have to set a budget for Sue or our house would look like a gallery.  You'll see many art fairs tied into the many festivals hosted by Michigan beach towns.  Really, Every Michigan beach town setting is a work of art in itself.
The beaches, dunes, quaint towns, and of course Lake Michigan all create their own artistic, majestic beauty.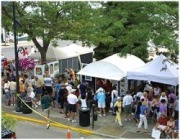 The whole atmosphere is pleasing to the soul. No one seems hurried.
You get to spend quality time with all the artisans and learn their inspiration for a particular work or media.
You can also barter a liitle more at an art fair.  Don't be afraid to haggle a little over prices.
The larger Michigan art fairs can run a couple of days which allows you to fit several in your romantic getaway plans.
Be sure and check our Michigan festivals page for additional events such as wine festivals and Michigan venetian festivals.
Here is our list for top art fairs in Michigan. If you have an art fair you would like listed please contact us.
While traveling to the art fairs, check out our discount travel page for travel savings.
2013 Art Fairs in Michigan
New Buffalo
The first weekend in May is "Art Attack weekend". Harbor Country comes alive!

Elk Rapids
"Art Rapids" June at Memorial Park by the bay. On the shores of Grand Traverse Bay this community is fast becoming known as an art focused community. Go to Art Rapids
Saugatuck July 6 & 27 Waterfront Invitational Art Fair

Harbor Springs July 4 Northern Michigan Art Festival

St. Joseph
Krasl Art fair on the Bluff
July 13 & 14 one of the most spectacular settings for an art fair. This juried fair overlooks Lake Michigan.

Petoskey July 20 Art In the Park

Saugatuck July 27 Village Square Art and Fine Crafts

Traverse City July 27 Annual Outdoor Fair

Holland August 3 Holland Art in the Park

Suttons Bay August 4 & 5 Suttons Bay Art fair

Bay Harbor Petoskey August 4 & 5 Bay Harbor Arts Festival

Charlevoix August 10 Charlevoix Waterfront Art Fair. One of the top shows in Michigan. Scenic setting on the harbor of Lake Charlevoix.

Frankfort
August 22. The 36th annual Frankfort Art fair. Market Square Park in Frankfort Michigan 231-352-7251.

Mackinaw City
Mackinaw City Arts & Crafts Fair is held June 29 & 30, and again August 24 and 25 at Conklin Heritage Park on South Huron Ave. This is a juried show featuring many artists from around the country.
Saugatuck/Douglas
Check the Saugatuck/Douglas schedule
ArtFairCalendar.com: Fine Art Fairs and Craft Show Event Listings
Free art show and craft fairs calendar and email list for Michigan, Ohio, Chicago and Florida art festivals. Join our free art fair email list!
From Michigan Art fairs back to Michigan Art 

Back to Romantic Lake Michigan home.