Top Michigan Romantic Getaways And Honeymoon Destinations

From Harbor Country to Grand Haven
Custom Search
Plenty of Michigan romantic getaways can be found along this southwest/central coastal area. Nestled in the southwest corner of the state near the Michigan-Indiana border is an area called "Harbor Country®". This is an area I was fortunate to watch develop into what I believe is one of the pearls of Michigan.
This photo was taken from one of our favorite spots to sit and watch the boats coming in/out of the harbor.  Great sunset spot too.
People who live or visit here owe a special thanks to Nadra Kissman and Larry Bubb. They had a vision for an area that was in decline after World War II.
With the help of many local businesses brought it back to what many call "The Hamptons of the Midwest". If you are looking for a slower, peaceful, and tranquil honeymoon destinations, you will find them here.
New Buffalo has the lone harbor in Harbor Country® located where the Galien River enters Lake Michigan. The city beach is next to the harbor and only steps from the downtown area.
There is a daily park fee or you can purchase a yearly pass if you will be visiting often (also saves you money). If you're coming by boat there is some transient docking available and there is also a public boat launch on the Galien River.
The other towns in Harbor Country® may be smaller but they are big on charm and character with unique finds around every corner.  Sue and I love exploring these towns and villages.
Towns like Lakside, Union Pier, Harbert, Sawyer, Three Oaks are full of Art galleries, specialty shops, along with many amazing eateries ensure a really fun, scenic, resort atmosphere.  
Plenty of year round festivals add to the seasonal fun.
We love the Fall festivals!
Here is a map of the Harbor Country® area courtesy of The Harbor Country® Chamber Of Commerce.
Our top picks for romantic Michigan getaways and honeymoon destinations in this amazing area.

---
The Harbor Grand Hotel in New Buffalo (located on the harbor) is a contemporary arts and crafts style hotel. It is one of the most romantic Michigan getaways in the area. Comfortable rooms with lake or city views and a staff that goes out of its way to please.
---
St. Joseph is a really unique city. Sitting on a bluff overlooking Lake Michigan you can enjoy it many ways. If you don't feel like doing the beach thing, the bluff is the place to be. Grab a bite, (or ice cream cone) to go at one of the many restaurants. Stroll over to the bluff ... sit and enjoy ... while gazing out over the lake, or watching boats come in and out of the harbor.
The bluff is also a great spot on the 4th of July. One of the best firework shows in the state can be enjoyed here.
The Venetian Festival runs in July and it's impossible to get a room as most are booked years in advance. That should tell you how popular this festival is. It's one of the states largest and draws hundreds of thousands of visitors.NOTE: As of 2012 the Venetian Festival has been discontinued.
Across the bridge is Benton Harbor, the sister city. It had fallen on hard times but is making a comeback with specialty shops and art galleries springing up in the downtown area.
We enjoyed our honeymoon getaway here on the bluff, at the beautiful Boulevard Inn Hotel.  This is still one of our favorite Michigan romantic getaways.  The perfect location and a cool bistro!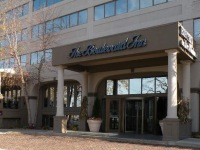 ---
Michigan romantic getaways are plentiful in the Saugtuck/Douglas area. This is the "art mecca" of the midwest. With over 60 galleries you're sure to find that unusual piece you've been looking for.
Summertime here is busy ... but relaxed. Many of the restaurants and cafe's have outside patio areas for an enjoyable meal, and many sculptures adorn the streets.
This is one of our favorite Michigan beach towns. It's a pleasant way for us to spend time... strolling the beautiful tree lined streets and visiting the quaint little shops.
American Style Magazine says "Saugatuck is one of the top five Art Towns in America. MTV rated Oval beach as one of the top five in the United States. You feel like your visiting a European port town.
Plenty of romantic Bed and Breakfasts here, but one is very special. The The Wickwood Inn is owned and operated by best selling cookbook author Julee Rosso (TheSilver Palate Cookbook) and her husband Bill Miller. They have created a very special romantic getaway. Zagat reviewers say " it is one of the best in the world", while Travel and Leisure magazine call it "One of the worlds most romantic inns". I think that pretty much says it all. The Wickwood Inn is one of the finest Michigan romantic getaways.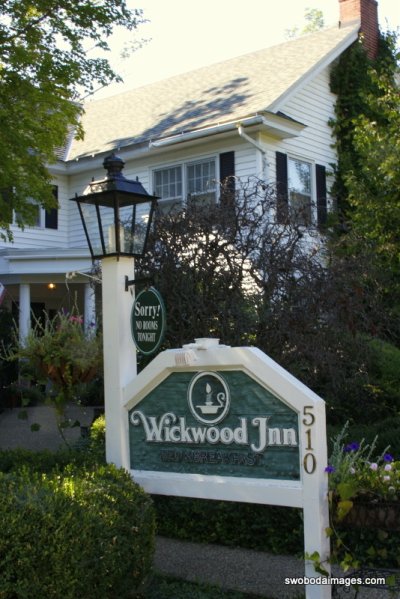 ---
Lake Bluff Inn and Suites in South Haven sits on a 70' bluff overlooking Lake Michigan. You can relax on over 200 feet of private beach. This is a great wedding destination and top honeymoon spot.  One of the top spots for sunset watching with your sweetie.  Close to everything including several wineries in the area.
---
Grand Havens Bluewater Inn is the only one in town that overlooks Lake Michigan. Walk to all the downtown hotspots. Grand Haven State Park with its popular beach is across the street. With sunsets to die for this place is a top honeymoon location.  One of the top Michigan romantic getaways in the town.
Every night during the summer you can enjoy the boardwalk along the riverfront that leads to the beach.  The lighted, musical fountain is a traditional event you'll want to make time for.  Great night life in Grand Haven.  Plenty of watering holes offering top entertainment!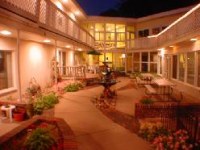 ---
From Michigan Romantic Getaways Back To Lake Michigan Honeymoon 

Return to Home Page