Top Western Michigan Restaurants
Our favs ... from New Buffalo to Pentwater .
Custom Search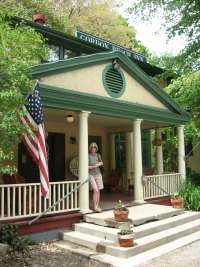 Trying out different western Michigan restaurants is always a special treat for us.
As you know, we live close to southwest Michigan, so day trips have allowed us to enjoy many restaurants.
We want to tell you about our favorites as well as others that will be worth your time.
Breakfast or lunch usually means a trip to theBlue Plate Cafe north of Union Pier in Harbor Country.
Made from scratch recipes, several vegetarian items (my wife likes) and baked items to die for. The Blue Plate Cafe is located at 15288 Red Arrow Highway in Union Pier (269-469-2370).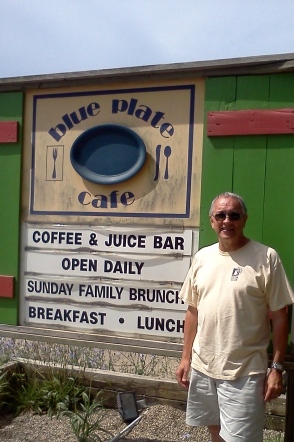 A lunch-time visit to New Buffalo means you'll usually find us at Hannah's Restaurant or Casey's Bar and Grill. I love Hannah's pork tenderloin sandwich with fries and slaw.
Update: We just heard that Hannah's has closed down. Sad news as we really enjoyed this place over the years. Hopefully someone will re-open this New Buffalo landmark. We'll keep you posted.
If we're doing Casey's I usually go for the cheeseburger with blue cheese or the perch. Sue usually goes for a salad (healthy) at either place or she also loves the perch at Casey's. Casey's is located at 136 N. Whittaker Street in downtown New Buffalo (269-469-5800).
When we want fine dining we're headed to Timothy's Restaurant in Union Pier. Located in the Gordon Beach Inn, the atmosphere of this 1920's inn makes for an unforgetable, romantic dining experience. We love this place!
Below is a list of those we have visited over the years. Believe me, these areas still have several we have yet to visit. When we do we will add them to the list.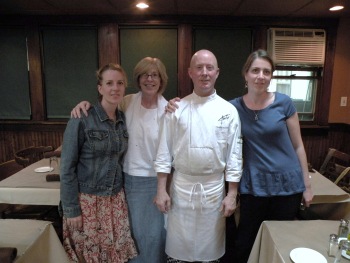 Western Michigan Restaurants
Honorable Mentions
Our three  favorite St. Joseph, Michigan restaurants.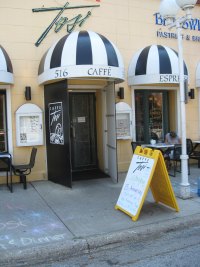 Cafe Tosi's: We like their croissants, panini's and baked goods. All are homemade. Only half a block to the bluff, get lunch to go and enjoy while gazing out at beautiful Lake Michigan.
Schu's Grill & Bar is really fun year round. Located on the bluff you can dine outside in the summer or inside in winter and enjoy spectacular views of the lake. Try their Cheesy Potato Soup.
Clementine's is located on the St.Joseph River across from Pier 33. It's fun walking the docks, looking at the boats and watching them cruise down the river. One of the most popular western Michigan restaurants in the area.
A couple of our favorite South Haven, Michigan restaurants.
If you liked Clementine's in St. Joseph you'll be glad to know you can enjoy the same menu in South Haven's Clementine's. They are located here at 500 Phoenix Street. (269-637-4755).
The Thirsty Perch Grille is the place for a perch lover. They get fresh perch shipments four times a week in this nautical style restaurant. Be sure and try the local brews.
Saugatuck/Douglas Restaurants
The Belvedere Inn gives you a fine dining experience with a casual dress code. You may bring your own beer, wine or champaign but no liquor. This is a wonderful 1920s inn that is charming and elegant.
Coral Gables has been a western Michigan restauants hotspot for years. Homemade soups, pizza, salads and great sandwiches. Live entertainment and karaoke. Try their fish fry on Friday night.
Holland Michigan Restaurants we enjoy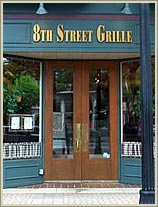 The 8th Street Grille is the place if you love mouth watering burgers and homemade thick shakes. Be sure and try their famous Chicken Corn Chowder. A neat place that you'll want to return to.
Pereddies Restaurant and Deli offers casual fine dining in a rich Italian tradition. Not only do they have an extensive menu, they also have a great deli where you can purchase over 25 different olive oils and other Italian products.
Grand Haven
The Morning Star Cafe is my choice for breakfast. Located at 711 Washington Ave. (616-844-1131). Try Their Cadllac omellet, just be sure your hungry. Great coffee and a relaxed atmosphere.
Bill-Mar Restaurant is located at 1223 S. Harbor Drive (616-842-5920). Call ahead for reservations but you must do a sunset dinner here. Try and get a table next to the windows. This is one of the best western Michigan restaurants I have experienced. Great service and a menu to die for!
Pentwater
Gull Landing is the happening place in Pentwater. Located at 438 S. Hancock Street (231-869-4215) live entertainment and an outdoor terrace makes it a busy place. Try your dining experience at dusk with a romantic view of the lake. I'm gonna say it again ... try the perch, it's awesome.
Check back often as we visit and report on more western Michigan restaurants.
From Western Michigan Restaurants back to Lake Michigan Restaurants. 

From Wester Michigan Restaurants back to Romantic Lake Michigan home page.