Michigan Kiteboarding
Extreme Fun!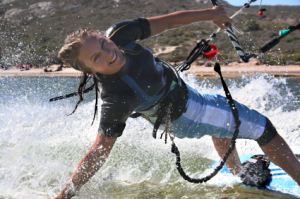 Michigan kiteboarding is quickly becoming the #1 water sport along the beaches. Snow kiteboarding is growing in popularity, especially in the Grand Traverse Bay area. Kiteboarding is a great sport you can enjoy year-round.
One of the best things about kiteboarding is that it's a "green" water sport. Once you have the equipment you can go to the beach and enjoy a water sport that doesn't require a boat or uses any gas. Sweet!
Who needs a snowmobile in the winter when you can fly along the Michigan lakes on a kiteboard.
It is an affordable sport with kites and boards both starting in price at the $400 range. Kite costs and sizes are determined by rider skill levels and conditions.
How I would give anything to try this sport but I'm ... to old and to out of shape. I have watched from shore and it amazes me at the skill level most of these kitboarders display. The speeds they reach while flying through the air really makes me wish I was about thirty years younger.
Whether you are a beginner or seasoned kiteboarder in Michigan - you want to be safe. This is not a sport you try until you have had some training. Take the time to learn and use the proper equipment.
---
Where to kiteboard in Michigan.
Check our Places to stay page for hotel savings on beachtowns along Michigan's west coast.
The Great Lakes Kiteboarding site has information on events, camps and their kiteboarding school. A good site with some wild video.
Grand Bay Kite has information on lessons and offers some of the best equipment you'll need for this sport.
The Mackinaw Kite Company site has information on events, classes and gear.
Here is the link to Kiteboarding Magazine lots of information and some cool wallpaper you can download.
---
From Michigan Kiteboarding back to Michigan Attractions. 

Back to Romantic Lake Michigan home page.