Lake Michigan Attractions ...
Fun And Romantic
Custom Search
Lake Michigan attractions ... you'll find plenty to keep your days filled with romantic fun. Discovering interesting, fun things to do together is what helps to build healthy relationships.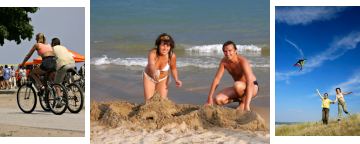 Now there is some give and take involved. Decide on things that interest you both first. Stay open minded to your significant others interests.  Michigan's sunset coast gives you plenty of choices ... it will be easy to find something that peaks your interests.
Do you love Lake Michigan as much as we do? Click here to see our Romantic Lake Michigan shirts and other items.
Michigan's west coast is one of the most fun areas of the country to visit. You'll find plenty of Lake Michigan attractions to enjoy together.
Kiteboarding has become very popular in the last few years on Lake Michigan. I'm too old to try it now but it sure looks look a blast.
Visit the local wineries. Wine tours and tasting rooms are a really special way to learn about Michigan wines together.
Build a sandcastle. The festivals usually have a sandcastle competition you can participate in. Don't worry about winning the competition, just have fun building it together.
Dune rides are an exciting adventure. These specialized vehicles will take you up and over the dunes for a thrilling experience.
The Mackinac Bridge is a must visit. This 5 mile long beauty connects the upper and lower peninsula's.
Visit one of the local casino's. Play it smart here. Never gamble with more than you can afford to loose. Sue and I go with a set amount and if we win a little were happy. Most of the casino's will have great restaurants and you will enjoy a wonderful meal.
Visit the lighthouses. You'll find the port towns normally have long piers with beautiful historic lighthouses to visit.
Enjoy the spectacular color of fall rides. Stop at local fruitstands and farms to take in the harvest. This is one of our favorite times of the year.
Find a romantic spot on one of the beaches and watch a sunset together.There isn't anything more romantic than this!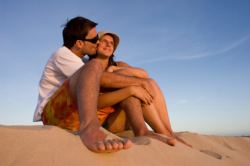 After you have had a great time on Lake Michigan investigate Romantic European Vacation Guide provides tips and suggestions, photos and fun to help you plan your perfect romantic European vacation. 


From Lake Michigan Attractions back to Romantic Lake Michigan Home.