Michigan's Mackinac Bridge
The Mighty Mac!
Custom Search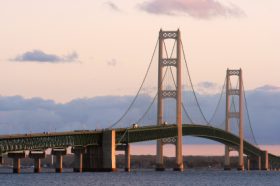 Seeing the Mackinac Bridge for the first time as a child was an unforgetable experience. I remember my father saying "there it is" and then the excitement of my first glimpse. I also remember being a little fearful as we crossed from the lower peninsula to the upper peninsula.
It seemed as though we were miles above the water.

Arriving on the northern side gave me feeling of really being up-north.

I still get excited anytime I get a chance to go over the "Mighty Mac".
This amazing structure is an engineering marvel. Construction began in May of 1954 and the bridge opened for use in November of 1957. Quite the feat when you consider the weather and water conditions the builders faced. When you see it, you realize what an enormous accomplishment this was.
The bridge is lit-up at night and absolutely breathtaking. Take the time to see it at night ... you'll be glad you did.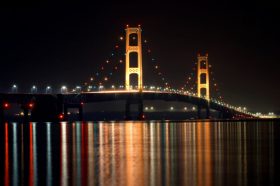 Here are a few interesting bridge facts.
The cost to build was 100 million dollars.
The bridge length is 5 miles: The 3rd longest suspension bridge in the world.
The main towers are 552 feet above the water.
Water depth at mid-span is 295 feet.
Over 42,00 miles of wire cable was used.
Five men lost their lives during construction.
Even though there is always a debate about how you pronounce Mackinac: the "ac" is pronounced "aw', or Mackinaw. The Mackinac Bridge Authority is the governing body handling maintenance, and of course collecting the crossing fee. For cars the fee is currently $3.00. If you are driving an RV the fee is $3.50.
There are several events each year with the most popular being the "Annual Bridge Walk" usually around the first of September. The bridge authority sitehas great photos of the construction along with event listings, rules and regulations.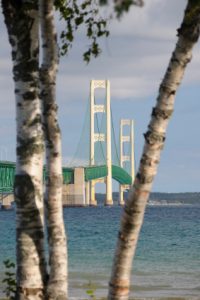 Like the people of Michigan ... the "Mighty Mac" stands tall and proud.
From Mackinac Bridge back to lake Michigan Attractions. 

Back to Romantic Lake Michigan home.