Top West Michigan Travel Destinations
Sunsets ... Sand ... Romance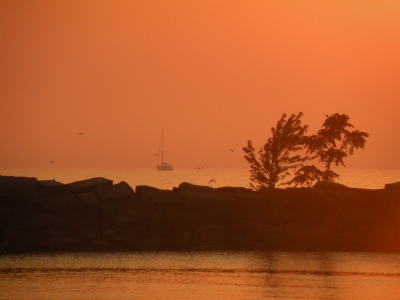 Our West Michigan travel destinations will take you along 80 miles of the central Michigan coast to beautiful, romantic coastal towns. We want to show you what makes a west Michigan vacation so romantic, and most memorable.
From Holland, to the scenic village of Pentwater, this is a beautiful stretch of Lake Michigan. These harbor towns have all the amenities for that perfect honeymoon, or getaway that makes west Michigan travel so unforgetable.
Big Red Lighthouse in Holland, MI. is one of my favs.
---
Holland, Michigan is a Dutch American settlement once referred to as "the city of churches". This town has over 170 churches and where the popular "What Would Jesus Do" braclets started in 1989. The town is situated on Lake Macatowa and Lake Michigan.
Every year people travel from all over the world to attend the anual Tulip Festival, the second weekend in May. The town is dressed up with 6 million Tulips. The Holland State Park is one of the most visited in the state. The ever popular lighthouse known as "Big Red" is the most photographed lighthouse in Michigan. CNN named Holland one of the top five places to retire. Theres plenty to enjoy here.
Holland Chamber Of Commerce
272 E. 8th Street
Holland, MI 49423
616-392-2389
Find the best deal, compare prices, and read what other travelers have to say about hotels in Holland
---
Grand Haven, Michigan is often called the "Midwest Mecca of Beach Volleyball". Spend a day fishing, wind surfing, boating, or jet skiing ... grab a bite at one of the many restaurants in the scenic downtown area, then prepare for one of Lake Michigans spectacular sunsets.
Good Morning America recognized the beaches at Grand Haven State Park as one of the top 5 in the world. Stroll the beautiful boardwalk to two piers and lighthouses. The Grand Haven Golf Club has long been recognized as one the countrys most beautiful.
Bring along your bikes and enjoy over 100 miles of trails. The annual (very popular) Coastguard Festival runs for two weeks and draws more than 100,00 visitors every year.
Grand Haven Chamber Of Commerce
One S. Harbor DriveGrand Haven, MI 49417
616-842-4910
---
Muskegon, Michigan is a city that has been going through a transition ... for the better. The downtown mall was torn down in the 1990s and the area is developing into a more upscale resort type area. There are plenty of eateries to satisfy any palate in town. They also have a wonderfully popular Farmers Market during the summer months.
The Muskegon State park is always a popular camping destination with beaches on Lake Michigan, and Muskegon Lake.
The Lake Express car ferry runs from late spring, through fall. The trip between Muskegon and Milwakee, WI takes about 2 hours on this catamoran style ferry.
Late June and Early July the city goes all out for "Muskegon Summer Celebration". This is a 10 day festival with many top musical acts .
Muskegon Chamber of Commerce
900 Third Street suite 200
Muskegon, Mi 49440
231-722-3751
---
Pentwater, Michigan is a charming little village where you can walk the beach, or shop the unique shops in town. This small harbor town sits between Lake Michigan and Pentwater Lake and is a must visit if you are close to the area. The friendly town folks always go out of their way to make you feel welcome. This is a small town with lots of heart.
During the summer you can enjoy a Farmers Market, and civic band concerts, every Friday. They host a Fine Arts fair in July and though it is a one day event, it is well attennded by art enthusists.
The August Homecoming Celebration is a another festival that many look forward to. This is one town for your "must visit list" during your west Michigan travel time.
We know you will agree that these are some of the top spots for romance ... west Michigan travel.
Hotels in Pentwater
---
from west Michigan travel back to Michigan beachtowns 

Back to Romantic Lake Michigan Home.