Field Dressing Michigan Deer
by William Burrows
(Niles,Michigan 49120)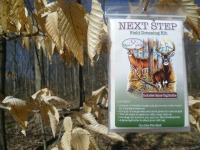 Hunter Select
Hello everyone, my name is Bill Burrows and I've spent years in the woods hunting Michigan Whitetail Deer.

I got tired of the mess on me and my clothes that resulted in cleaning a Michigan Deer . I decided I would come up with a system to make field dressing deer (and other game) easier and safer. No more blood all over you and those expensive hunting clothes.

The task of field dressing an animal is not the best job in the world but here at Hunter Select we have made it cleaner. With one of the best field dressing kits (The Next Step Field Dressing Kit) for big game on the market. Check out our website Then let us know if your ready for the Next Step!
Join in and write your own page! It's easy to do. How? Simply click here to return to Made in Michigan.