The Ultimate Michigan
Beach Vacation
The "Top Romantic" Michigan  vacation may be renting a home, cottage, condo, or cabin.
Custom Search
Michigan beach vacation rentals are plentiful up and down Michigan's west coast and the demand is always high. Most will rent for a week at a time and can be costly but ... they are one of the most romantic ways to getaway.

If it fits your budget there isn't anything more romantic. Many are offered all year so you can enjoy any one of Lake Michigan's enchanting seasons.
You will find the rates drop in what is termed the "off season". When it comes to getting away from it all we don't believe there is such a thing as the "off season".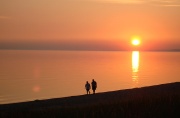 It's all about the two of you and precious time together. Why wait to get away when you feel the need? Remember this is the time to reconnect with each other with life and what's important. You'll actually find the off season can be the best time to take advantage of vacation rentals.
The place is yours and yours alone. It's your special place in paradise. The two of you can enjoy a romantic vacation at your own pace, in your own setting with no interruptions.
That's what makes Lake Michigan vaction rentals so romantic ... the solitude they offer. Hotels, inns, bed and breakfasts are all wonderful and are very romantic but a home or condo makes the experience really special.
If you're looking for a special way to enjoy a Michigan vacation consider a rental. A honeymoon, anniversary, or just alone time for the two of you, they are the ultimate in our opinion.
We are always looking for and adding to the list of Lake Michigan vacation rentals - so check back often.
---
Home Exchange is a company that allows people all over the world to exchange vacation homes. They have many listings in beachtowns along Lake Michigan and may be something for you to consider if you own a second home. Make yourself at home anywhere in the world, live like a local and stay for FREE. 20,000+ Worldwide Listings  
From Michigan Beach Vacation back to Places To Stay. 

Back to Romantic Lake Michigan Home Page.