Michigan Bike Trails Information
Your guide to enjoying Michigan bike rides
Custom Search
Here is a list of Michigan bike trails for you to explore with your significant other.
Michigan bike rides are another fun way to enjoy time together wrapped in the beauty of majestic settings.
Take the time to explore the many Michigan wineries on your ride. The northern bike routes are close to and take you near several of them. 
Below is a list to help you cycle Michigan safely. We will start from the southern part of the state and work up to the northern areas.
We have included addresses and phone numbers for you. Call ahead for the hours and special activities some of the parks offer.  Have fun while you cycle Michigan!
Michigan Bike Trails
Harbert Road Nature Preserve
A 90 acre preserve for hiking, biking and birding. Open from sunrise to sunset.
Harbert, Michigan 49115
269.469.1676

Warren Dunes State Park
With dunes reaching as high as 240 feet, this will be a challenging trek. Many scenic and wooded areas which can lead you to the beach.
12032 Red Arrow Highway
Sawyer, Michigan 49125
269.426.4013

Grand Mere Nature Trail
1000 acres of undeveloped woods and sand dunes. This trail is dog-friendly. You will find 985 acres of trails.
Thornton Drive
Stevensville, Michigan 49127
269.426.4013

Van Buren State Park
A beautiful park with 14 miles of trails for hiking/biking.

Kal-Haven Trail State Park
The trailhead from this park will take you on a crushed limestone path (34 miles) that connects South Haven to Kalamazoo. It includes wooded areas and streams. There are two bridges, one which is a covered bridge.
Great for biking.
Baily Street
South Haven, Michigan 49090
269-674-8011

Pigeon Creek Park
This park offers 10 miles of hiking/biking trails. 12524 Stanton
West Olive, Michigan 49460
616-738-9531

Ludington State Park This state park has 5,300 acres with frontage on Lake Michigan. 18 miles of hiking/biking trails. M-116
Ludington, Michigan 49431
231-843-2423

Musketawa Trail A 26 mile trail between Muskegon and Mame. Along this trail you will see farmlands and wetlands, and going over creeks and through villages. Open four seasons for hiking and biking.
Muskegon, Michigan

Muskegon State Park A pretty park with 12 miles of marked hiking trails. 3560 Memorial Drive
North Muskegon, Michigan 49445
231-744-3480

Manistee Arboretum Trail
A short but scenic trail with a small waterfall. Bosshem Road
Manistee, Michigan 49660
231-723-2211

Pentwater Pathways
A great place for hiking and biking. It offers beginner to advanced trails. The trail system includes 4 loops totalling 15 miles. Heavily wooded with rolling hills.
Mears, Michigan 49436
231-873-5247

Leelanau Trail The Leelanau Trail connects Traverse City and Sutton's Bay. Along this 15 mile trail you will find rolling hills, thick forests and many streams and lakes. There are 4 separate Michigan bike trails: Leelanau Trail - 15 mile trail
Boardman Trail - 2 mile trail
TART Trail - 10 miles of paved trail
Vasa Pathway - 16.7 mile trail located in the beauty of Pere Marquette State Forest
The trails include easy to challenging.
Traverse City, Michigan 49685
231-941-4300

Lake Ann Pathway - Chain of Lakes
There are two different loops. The most challenging is 3.5 miles with shortcut options to choose from. You'll pass 3 lakes and challenging hills. The second and easier trail is 1.8 miles. For biking also. Reynolds Road
Lake Ann, Michigan 49643
231-922-5280

Top of Michigan Trails Council
This includes a network of trails for hiking, biking and in-line skating. Many scenic trails in Alpena, Antrim, Charlevoix, Cheboygan, Emmet, Ostego(sp) and Presque Isle. Check out their website at: Check out their website
445 E. Mitchell
Petosky, Michigan 49770
231-348-8280

Sand Lake Quiet Area
10 miles of hiking and biking around many scenic small lakes. Hiker trailhead is located at Guernsey (sp) Lake State Forest Campgroung Pere Marquette State Forest
Island Lake Road and Campground Road
Kalkaska, Michigan 49646
231-922-5280

Springbrook Pathway
A flat to hilly terrain with a 5 mile trail for hiking and biking. Mackinaw State Forest Boyne, Falls, Michigan 989-732-3541 (8 miles NE of Boyne Falls)
Mackinac Island It's 8 miles of fairly flat surface around the island. On M-185 "highway". There is/are? 70 miles of trails and paths in and around the island. The inland trails have a more difficult terrain. You will find bike rentals there,for $5.00 per hour, or you may bring your own bike. There is a charge for your bike on the ferry ride to the island.Michigan Bike Trails ... Have A Blast!
---
Download a copy of What Every Michigan Bicyclist Must Know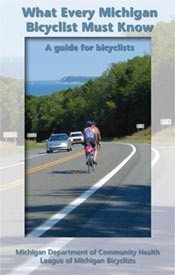 ---
From Michigan Bike Trails back to Bike West Michigan 

From Michigan Bike Trails back to Romantic Lake Michigan home.