Michigan Rv Rental
A cool way to roam the state!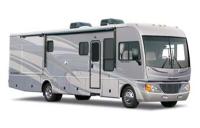 Even with high gas prices a Michigan RV rental could save you money.
When you consider the cost of hotel room, cabin, cottage, or condo, the Rv may be a good option for you. This may be especially true if your plans include visiting several Michigan west coast destinations.
Sue has said she loves this option because a motorhome allows her the freedom to move around while we are going from destination to destination.
She has a bad back and this makes traveling so much more enjoyable for her.
There are plenty of state parks with RV sites,KOA'S, as well as private campgrounds. Many Wal Marts will let you stay in their parking lot at night. Be sure to check with the store manager.
Here is a list of Michigan RV dealers that offer rentals.
HW Motorhomes 
Canton, MI.
800-334-1535
Krenek RV Super Center
Coloma, MI.
800-543-8267
Westland Camping Center
Westland, MI.
734-326-7700
Fisher Auto Sales Inc.
Westland, MI.
800671-7839
Years ago, I was fishing bass tournaments around the state with a friend who owned a very nice motorhome. I can tell you the amenities were homey and comfortable. We not only saved the expense of a motel room, we also prepared our own meals which were healthier and cheaper than eating out.
A KOA Value Kard can save you money on RV rentals and many more camping related products.
RV's come in many sizes and the rental compnies will take the time to show you how to operate evrything safely. Some may allow pets but check beforehand as there may be special deposits for Fido.
Be sure to check about insurance needs and liability when using an RV rental in Michigan.
Custom Search
From Michigan RV Rentals back to Lake Michigan Camping

Back to Romantic Lake Michigan home.