Remote in the middle of it all
by Brian Hutchins
(Michigan)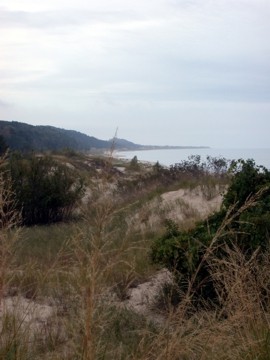 Nordhouse Dunes
I wrote the "book" on Lake Michigan beaches (Michigan's West Coast: Explore the Shore Guide). For me to pick a favorite is more difficult than difficult. Let me start with a beach centered along Michigan's Lower Peninsula; Nordhouse Dunes. This is a beach lover's beach. It's isolated. It's difficult to reach. It really requires you to spend a day there and forces you to slowdown and soak it in.

Nordhouse Dunes is part of the Manistee National Forest between Ludington and Manistee. It sits in the middle of 12 miles of continuous public beach that include Ludington State Park and the US Forest Service's Lake Michigan Recreation Area. You can reach Nordhouse Dunes by hiking the beach from either of these other parks or you can hike into it from a trailhead on Nurnberg Road found near its middle. I prefer the later. In any case, there are miles of nothing – except sand, dune plants and water. On the busiest of summer weekends you can find yourself alone.

Prepare to walk. Take some food, drink and sunscreen. If you hike in over the dunes, have a map and compass (or GPS if you prefer) for the trails are unmarked. There is a small fee for visiting the area.

Paul's Reply: Thank you Brian. Our visitors can find out more about your book on our Michigan Products page.
Join in and write your own page! It's easy to do. How? Simply click here to return to Your Favorite Beaches In Michigan.