Lake Michigan Shore 
Wine Festival
he Lake Michigan Shore Wine Festival is an annual event (June) we always look forward to. Held at the scenic Weko Beach in Bridgeman, it makes the setting absolutley perfect. They have parking set-up a short distance from the beach so you can walk in or take one of the many shuttles.
Hours usually run from 1pm to 10pm. All of the local wineries are there and it's so much fun tasting the new offerings (and old standards). Admission is $5.00 and they sell tickets for wine samples (1 ticket) or a glass of your favorite (5-7 tickets).
Vendor tents "where the action is".
The food ranges from ribs and burgers to apricot/pecan chicken salad, and shrimp with mango salsa. Food prices range from $5 to $9. Take cash ... if you forget, there is an ATM on site.  
Hey, you are at the beach so bring along a blanket and take a little break to enjoy the great beach here in Bridgeman.  They also host a beer festival in the fall.  Same layout as the wine festival with great food and of course the famous Michigan micro brews.
They don't allow coolers or beverages to be brought in. I suggest you bring your own beach chairs or blanket if you want to sit in the shade. They have plenty of tables and chairs but most are in the sun.
Sue is taking 5 at the Tabor Hill booth.
They normally have a couple of bands with the "big act" closing out the event in the evening. In between bands you can watch local chefs prepare gourmet meals at the special KitchenAid stage.
The Lake Michigan Shore Wine Festival is one to mark on your calendar!
We hope to see you there!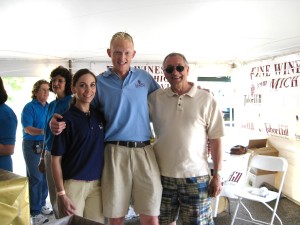 The Tabor Hill crew is always ready for a photo.
Back To Home Romantic Lake Michigan home. 

From Michigan Shore Wine Festival Back To Lake Michigan Wineries