Michigan Cross Country Skiing Locations
Enjoy Michigan's winter beauty with a cross country skiing getaway.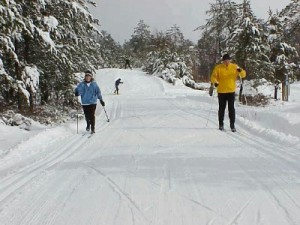 If you love Michigan cross country skiing you'll love these destinations. Not only do we want to show you the best snow skiing in Michigan, here are cross country skiing areas you may not be familiar with.
If you prefer the big ski resorts that's fine but, they aren't the only places to enjoy cross country skiing fun.
These Michigan state parks and other trail areas are set in some of the most scenic areas of the state.
Natural beauty and plenty of wildlife make for an unforgetable outing on a winters day.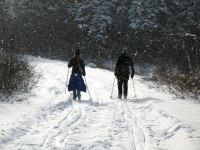 Top Michigan Cross Country Skiing areas from south to north.
---
Warren Dunes State Park has over 1900 acres with 9 trails to enjoy and more than 10 miles of cross country skiing. With dune formations rising 260 feet you'll enjoy spectacular lake views along 3 miles of pristine beach. A park permit is required.
Warren Dunes State Park
12032 Red Arrow Highway
Sawyer, MI 49125
269-426-4013
Go to Warren Dunes State Park
---
Saugatuck Dunes State Park is about 1000 acres with 4 trails that make up 12.5 miles of ski fun. You'll enjoy steep slopes and rolling hills along 2.5 miles of shoreline. Many dune areas are over 200 feet tall. Be sure and check out the Saugatuck/Douglas area for great dining and art galleries. Vehicle permit is required.
Saugatuck Dunes State Park
Saugatuck, MI 49453
269-637-2788
---
P.J. Hoffmaster State Park offers 3 miles of fine sandy beach and an observation deck with breathtaking views. Three trails with 5 miles of majestic cross country skiing you will really enjoy. Vehicle permit is required.
P.J. Hoffmaster State park
6585 Lake Harbor Road
Muskegon, MI 49441
231-798-3711
---
Muskegon State Park is over 1165 acres with beaches on both Lake Michigan and Muskegon Lake. Offering 6 different trails there are over 12 miles of cross country skiing splendor. You'll enjoy the 5 mile Loop to Loop trail as it is a lighted trail for night Nordic enjoyment. Awesome panoramic views of Lake Michigan. Vehicle permit required.
Muskegon State Park
3560 Memorial Drive
North Muskegon, MI 49445
231-744-3480
Visit their site
---
Big M is located about 15 miles east of Manistee. This was one of the first Nordic trails in the United States in the 1970s. With over 30 kilometers of track set trails they are set up for seasoned or neebies to the sport.
Manistee Cross Country Ski Council
P.O. Box 169
Manistee, MI 49660
Go to the Big M site
---
Muncie Lake Pathway is located 13 miles south east of Traverse City. A vehicle permit is required. The trail is around 11 miles through beautiful wooded countryside.
Traverse City Field Office
231-922-5280
---
Vasa Trail is part of the Traverse City T.A.R.T trails program. Offering 4 different features (loops) for the beginner or more experienced. Vasa is also host to the North American Vasa Cross Country ski race. To find out more about Vasa and other T.A.R.T trails contact:
Tart Trails, Inc.
P.O. Box 252
Traverse City, MI 49685
231-941-4300
Go to the T.A.R.T webite
---
Sand Lakes Quiet Area Trails is located between Traverse City and Kalkaska. This 2800 acre refuge, with over 11 miles of trails, is one of the top cross country ski areas in the state. Motorized traffic is prohibited so you'll enjoy plenty of wildlife around the 5 lakes and beautiful rolling hills.
Michigan Dept. of Natural Resources
Forest Management Division
231-922-5280
---
Wilderness State Park is over 10,000 acres of forested beauty. This park has 26 miles of majestic shoreline with over 20 miles of trails (12) for you to enjoy. This is a huge park so be sure you take a compass and map as it is easy to get lost. With small ponds and wetlands you'll enjoy plenty of wildlife.
Wilderness State Park
903 Wilderness Park Drive
Carp Lake, MI 49718
231-436-5381
Visit Wilderness Park
---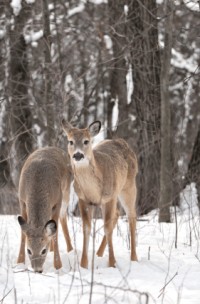 From Michigan Cross Country Skiing back to Michigan Winter Fun. 

From Michigan Cross Country Skiing to Romantic Lake Michigan home page.