Best Northern Michigan Color Drives
Cool nights and sweatshirt days ... our favorite time of year for day trips and weekend getaways.
Enjoying northern Michigan color with leisurely drives, biking back roads, beach walks and early sunsets can be a romantic venture. Starting mid to late September, it's time to begin planning your romantic getaway up north to take advantage of the majestic Michigan fall foilage.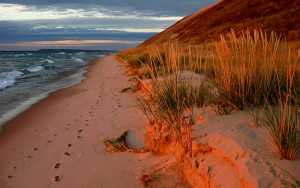 Sunsets create artful magic on Michigan dunes.
Pack your lunch, or pick up something at one of the general stores or cafes in the towns and villages along the way. Make sure the camera is ready, spare batteries and extra film.
You'll find plenty of northern Michigan color drives. There is no way to list them all but, we have put together a list of the top drives. Use the map below to help you plan your fall drive or getaway.
If you plan to spend a few days or longer, check for travel deals before heading up north. Saving money means more apples and other goodies from local fruit stands. Yum!
The peak northern Michigan color is generally around mid October. Stay up to date on conditions by calling the Michigan Fall Color Hotline.
Northern Michigan Color Hotline - 1-800-644-3255
Below is the interactive map you can zoom in, and move around on. Click at bottom for larger view which is printable.
View Larger Map
List of Northern Michigan Color Drives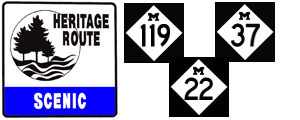 The "tunnel of trees" runs from Harbor Springs along the coast to Cross Village. This is claimed to be the #1 northen Michigan color drive during peak fall color. The road (Michigan Highway 119) is narrow and the trees on both sides reach accross to create a canopy. This is a short drive of about 20 miles. The traffic moves slow as many stop for photos, or pause to take advantage of the many breathtaking views. Tunnel of Trees brochure.
The Beaver Island drive (around 36 miles) begins by taking the ferry from Charlevoix to the Island. Leave St. James on Kings Highway headed south, turn left (east) on East Shore Road which turns into East Shore Drive. East Shore Drive will eventually turn into South End Road. Be sure and visit the lighthouse at Iron Ore Bay. West Side Road will take you back north, makes a turn east, and crosses Fox Lake Road and turns into Paideenog Road. Take Paideenog to Kings Highway, turn left (north) and follow it back to St. James.
The Petoskey, Charlevoix, Boyne City drive (about 47 miles) will take you along Lake Charlevoix and Lake Michigan. Leave Petoskey on 131 heading south. Turn right on 75 (north Shore Drive) at Wallon Lake. Follow 75 to Boyne City. Turn Left (south) on South Lake Street which will turn into Front Street. Take Front Street to Lake Shore Drive turning right(east). Lake Shore Drive turns into Lake Shore Road then into Ferry Road. Take Ferry Road to 66 and turn right. Take 66 to 31 at Charlevoix. Follow 31 back to Petoskey.
The Elk Rapids drive (about 56 miles) gives you breathtaking views of Grand Traverse Bay and Torch Lake. Leave Elk Rapids on 31 heading north. When you get to Eastport take 88 which will turn south after a couple miles. Stay on 88 into Bellaire and turn right (west) on Bellaire Highway. Take this to S.E. Torch Lake Dr. (593). Stay on 593 all the way back to Elk Rapids.
Old Mission Penninsula's drive (about 45 miles) starts by leaving Traverse City on E. Front Street and turning left (north) on Penninsula Drive. Take Penninsula Drive to 37 and turn left (north) following it to the end at beautiful Lighthouse Park.
The Leelanau Penninsula drive(about 126 miles) starts in Traverse City. Take West Grandview Parkway out of town. This turns into 22. You will stay on 22 going north up the east side of the penninsula, then coming down the west side of the penninsula. Stay on 22 all the way to Frankfort. Turn east(left) on Frankfort Highway (115) taking it to 31. Follow 31 east to 37 turning left (north) and returning to Traverse City.
The Manistee tour (about 90 miles) take Lakeshore Rd.(110) north out of town. This turns to Cresent Beach Rd. (22) near Portage Lake. Follow 22 aound the lake. Travel north on 22 (Northwood Hwy) past Arcadia and north to Grace Rd. Turn right (east) on Grace Rd. Follow Grace Rd. to Benzie Hwy (31) and turn right (south). Travel south to Cadillac Hwy. (115) which will go off to the S.W. Stay on 115 to Yates Rd. turning right. Stay on Yates to 9 Mile Rd. turning right (west). Take 9 Mile to Highbridge Rd. turn south (left). Take High Bridge to 55 (Caberfae Hwy.) turn right (west) and follow 55 to 31. Turn left on 31 to return to Manistee.
The Ludington drive (about 69 miles) leaves town on N. Lakeshore Rd. (116). This jogs around the S.W corner of Hamlin Lake to W. Dewey Rd. Take W, Dewey to N. Jabavy turning left(north). A short jaunt on N. Jabavy and veer to the right on N. Angling Rd. This will turn into W. Fountain that turns to E. Fountain when you cross 31. When you reach the village of Fountain take Reek Rd. to Sugar Grove Rd. and turn right (east). Sugar Grove will go right turning into benson at Round Lake. Travel south on Beson to 10 and turn left (east), then right (south) on Wallhalla Rd. Take Wallahalla to E. Hawley and turn left(west). Take Hawley to S. Scottville Rd. and turn left (south). South Scottville to W. Marrison Rd. turning right (west). Marrison to Stiles Rd. and turn left (south). Stiles to W. Washington turning right (west). Washington to N 66th and turn left(south) to Oceana Dr. (31) turning right (west) to N. lakeshore Dr. turning right and back to Ludington.

Always be aware of wildlife. This time of year you will see plenty of deer and other animals along these routes. Here is a PDF brochure on Deer Highway Safety.
If you find or know of a great northern Michigan color fall drive please contact us so we can share it with our viewers.
From Northern Michigan Color Back To Michigan Fall Color 

From Northern Michigan Color Back to Romantic Lake Michigan Home